History
The evolution of a leader in wireless communications infrastructure
What began as a commission to install 100 towers in Romania in 1996 has grown into a long-term involvement in the infrastructure and country for Trylon.
Over the past 17 years, we have worked with a variety of carriers and companies to build Romania's telecommunications infrastructure, installing nearly 700 Trylon towers throughout the country. Today, Trylon's subsidiary in Bucharest is part of the local industry and key to delivering locally manufactured towers and innovative solutions for our customers overseas.
It all started in 1996 when Telesystems International Wireless (TIW), a Canadian mobile systems operator already familiar with Trylon's extensive program execution excellence and world class manufacturing and installation experience, contracted Trylon to install 10 towers in Romania in a very tight timeframe.
Having already developed a range of standard towers for the North American market, we were able to deliver a solution and ship the materials quickly. Civil works started in Romania within a week and Trylon's technicians were able to plug a local staffing shortage to complete the job of installing the base transceiver station, integrating the towers into the temporary network and commissioning the equipment, all in the required timeframe.
The rest, as they say, is history.
By September 1997, Trylon had been awarded the entire GSM network rollout and a ship was on its way to Romania with construction materials, equipment, tools, towers, winter gear and people to start the job. A convoy 2km long was needed to get everything on board the ship!
Despite the logistical and weather challenges, Trylon's Canadian experience and resilience came to the fore and were key factors in the success of the job. While other companies were leaving Romania ahead of winter, Trylon's Canadian teams and very well equipped local crews were getting started. By spring, 50 towers had been built and the rollout was well underway.
Vodafone has subsequently bought TIW's interest in the network and we continue to work with them, and a range of other clients, to build the network in Romania today. Trylon provides program execution services, engineering, site acquisition, building permits, general contracting, manufacturing and installation services.
The program execution experience in Romania has been applied to Trylon's subsequent work in other parts of the world, including Afghanistan, Chad, and Sudan and coast-to-coast across Canada
You may also be
interested in: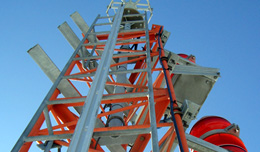 Products
Trylon has been designing and fabricating quality steel towers for more than 80 years. Over that time, we have earned a reputation for efficient design and high-quality manufacturing.
Innovation
At Trylon, we thrive on innovation. No one is more experienced in the business of innovative telecommunications solutions.