In Canada, Trylon has been manufacturing steel towers for more than 80 years and we do it better than anyone else in the business.
Customers can choose from our stock range of self-supporting or guyed towers, monopoles, micropoles, safety fall-arrest equipment and other accessories.
Choosing a standard tower shortens the design and manufacturing times and means your towers are available for installation sooner.
Where a custom solution is required, we offer a comprehensive tower design service which takes the customer's specifications and creates a cost-effective structure that can be manufactured in our own factory. Trylon's extensive fabrication experience makes us uniquely qualified to design efficient towers that will meet structural and functional needs as well as budgets.
Everything, from the engineering, design, detailing, testing, to manufacturing, is done in our state-of-the-art facility in Elmira, Ontario. The fabrication, cutting, grinding, machining, and welding are all done on-site in our 70,000 square foot factory.
With a factory capacity exceeding 36,000,000 pounds of steel each year, we have the buying power to provide the lowest cost steel structures for our customers.
Trylon Romania also can manufacture custom towers and metallic structures following the Trylon quality standards, in association with Romania local partners.
You may also be
interested in: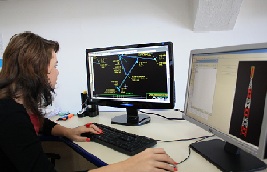 Engineering
Trylon's engineering team offers decades of experience in steel structures with a specialization in telecommunications and towers, and our people have the qualifications to work in Romania and in every jurisdiction in Canada and the United States.
Stock Towers
Trylon supplies a range of stocked "lighter-duty" telecommunications towers available on demand through our distribution partners.