Site Acquisition & Building Permits
Trylon offers a one-stop shop for delivering all of the site-related agreements and approvals for projects.
Our team of professionals has years of experience in negotiation, administration, and project management.
From strategic planning and project management, through authorities to site acquisition and administration - we cover it all.
Trylon's experience includes negotiation of leases, licenses, third party agreements, access rights, rights of way, easement agreements, crossings, statutory rights of way and any other agreements required to enable development of your site.
Before you hire a team to represent your company in the public consultation process, make sure they have the experience to anticipate and understand the immediate and potential concerns of your various stakeholders as well as to present your position effectively.
Trylon can assist you with:
Identifying optimal site locations, negotiation of leases, land use agreements required to commence the development of a site.

Preparing the site acquisition reports.

Strategic planning through authority approvals and administration.

Management of relationship with landowner.

Obtaining all request approvals, and obtaining building permit, electrical and civil permits.
We know the industry, processes and culture and have a proven ability to deliver solutions that meet the needs, budget and timelines of our customers.
You may also be
interested in: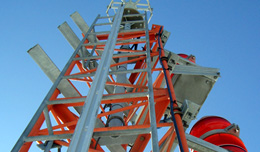 Products
Trylon has been designing and fabricating quality steel towers for more than 80 years. Over that time, we have earned a reputation for efficient design and high-quality manufacturing.
Innovation
At Trylon, we thrive on innovation. No one is more experienced in the business of innovative telecommunications solutions.