Trylon has designed and delivered training towers in the past, but when our customer came to us with a unique set of needs and asked for a tower that would serve many functions, we knew this would be a custom solution.
The first requirement was to fulfill the customer's telecommunications needs. This could easily be achieved. It was the second set of needs - that the solution also supports the customer's training programs - which made this project unique. It's a good thing our team thrives on challenge!
The end result is a multi-purpose tower and an industry first.
While the top looks and functions like a typical telecommunications tower, windows have been installed down the side and helicopter skids built in to facilitate rapelling training. Once these skills have been mastered on the fixed skids, trainees can safely move on to a real helicopter. A staircase is also built in to the tower for further training options.
This unique tower is now used for nationwide training and continues to perform its telecommunications duties successfully.
You may also be
interested in: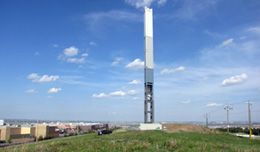 Custom Towers
Trylon has the structural engineering design expertise and manufacturing capability to deliver a wide variety of custom tower solutions.
Engineering
Trylon's engineering team offers decades of experience in steel structures with a specialization in telecommunications and towers, and our people have the qualifications to work in every jurisdiction in Canada and the United States.